Inspirations
Your Team already knows that it will celebrate #2h4family this year. You've registered using our form and are starting to think about what activities you want to implement as part of the campaign. Are you looking for hints? You've come to the right place – here they are!!
How do others do it? Does Humanites provide materials for you to use? What additional activities await teams that have joined the program? 
This year's motto: "Passions through Generations"
gives a lot of room for creative minds. We encourage your Team to come up with its own individual way to participate in the action, for example:
Contest – present "your passions"?

Picnic?

A family outdoor game?

A company fundraiser for an animal shelter? A

series of webinars on parenting for employees?

The sky is the limit! And budget

😉
You can find more examples of the implementation of the campaign by small and large companies from different sectors HERE.
The sky is the limit, so others are doing it like THIS:
The most common activity of choice are contests for employees. Mostly they start from the motto accompanying the year. Here are examples:
Prizes included company gadgets, and if the budget allowed – gifts that prompted joint family activities – tickets to an aqua park, a cinema, or an amusement park.
Excellent prizes would also be ASK ME cards created by the Humanites Institute!
THAT will certainly come in handy for you:
As you embark on the "Two Hours for Family / Human" campaign, you don't have to reinvent the wheel. Below you'll find materials that are sure to come in handy as you create your own version of our shared adventure.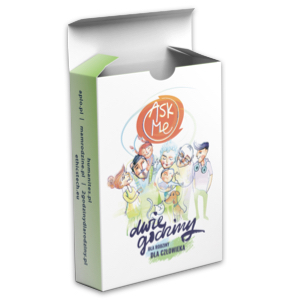 ASK ME CARDS
Every year we release a new edition of cards that will work perfectly as a tool for deepening interpersonal relationships. They can be played within the family or other people close to each other, also during team-building activities at work. They contain sets of questions, loosely inspired by this year's theme, so that players can get to know each other's experiences, dreams, and plans better. It's best to collect them all! Or choose the ones that appeal to you the most – with a theme from the latest edition?
A movie theme? A travel theme? The cards are bricks with which you can support the annual organization of our action. Pack price 33/pc, see in store.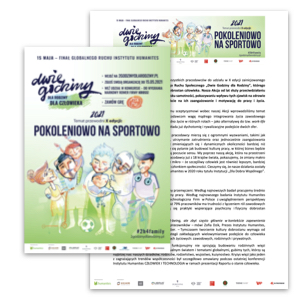 GRAPHICS – downloadable, ready-made materials for HR and marketing:
Each year we prepare them with the current motto in mind. We provide an A4 poster, graphics for use on social media and banners of various sizes. Graphics – download here. We recommend sending an email/letter with information about the campaign to the people you hire. If you are looking for inspiration, we have prepared a draft letter, you can find it here. There is nothing to prevent your Team from preparing such a letter yourself, or to have it written personally by the Team leader.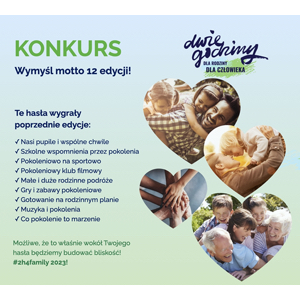 HUMANITES INSTITUTE CONTESTS
Every year we prepare a contest for your employees. You can win valuable prizes in it. Together with those who participate, we are looking for the motto of next year's campaign. Encourage those who are employed to participate and follow our Facebook and Instagram profile – we will announce the next edition in May. In the previous edition, you could win a KROSS bicycle, a luxury family stay at the Bukovina Hotel, Storck Sweets… and much more!
Last year we also held an additional contest. We asked you what is most important in relationships. The main prize – a high-end smartphone – was sponsored by Orange. This year we will repeat this activity!
We also have something especially for your Team!
You may, of course, enter the program with caution. We understand and respect that! However, we encourage you to do it with a bang. Every year we reward the team that puts the most heart into the action!
Did you like it?
You can recommend us further. Encourage your friends from other companies to join #2h4family. Introduce your decision-makers to the possibility of becoming our Partner.
LETTER TO EMPLOYERS
ACTION PARTNER – COOPERATION OFFER
please contact us by email: katarzyna.lorenz(at)humanites.pl
ACTION AMBASSADOR – COOPERATION OFFER