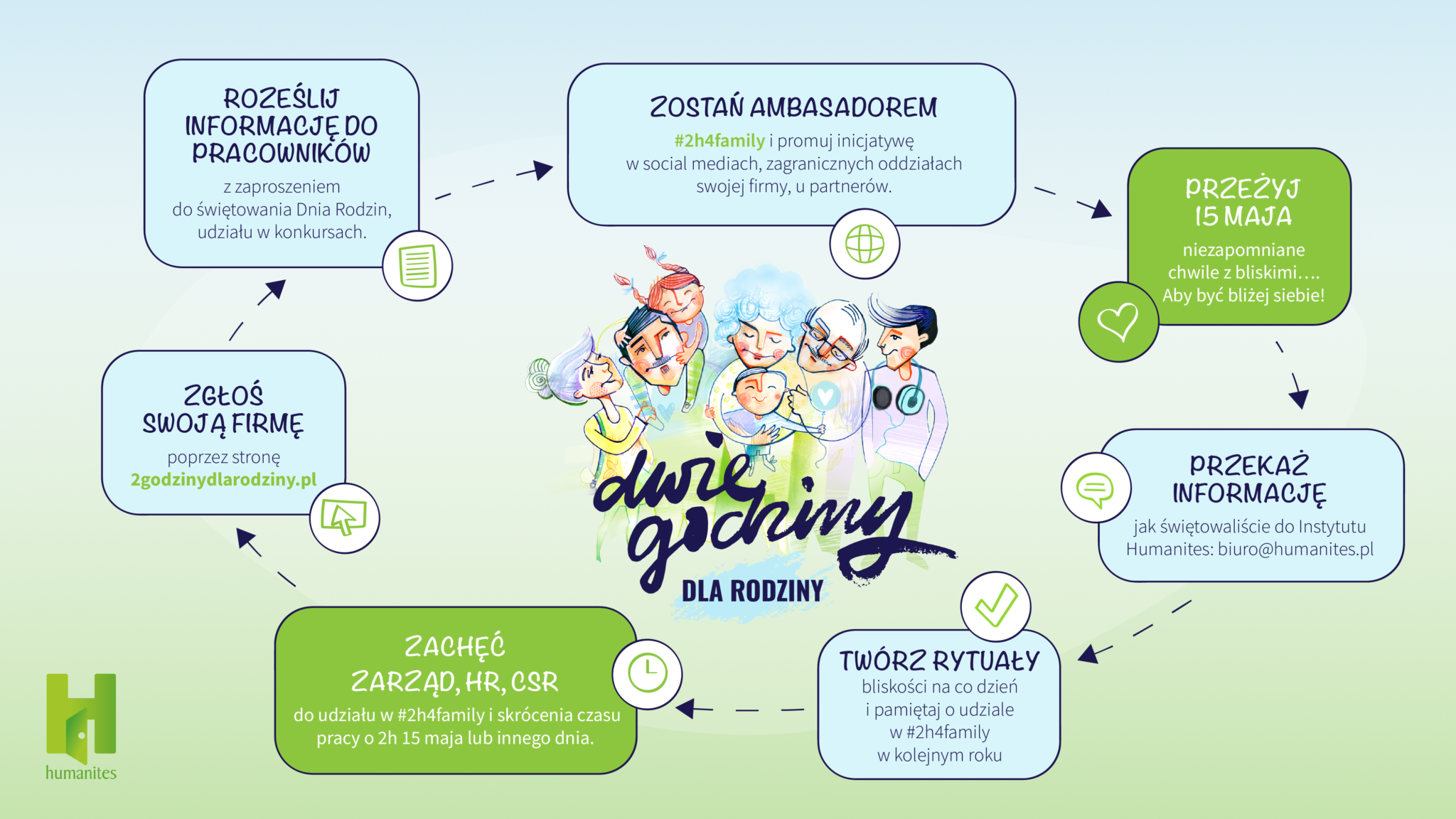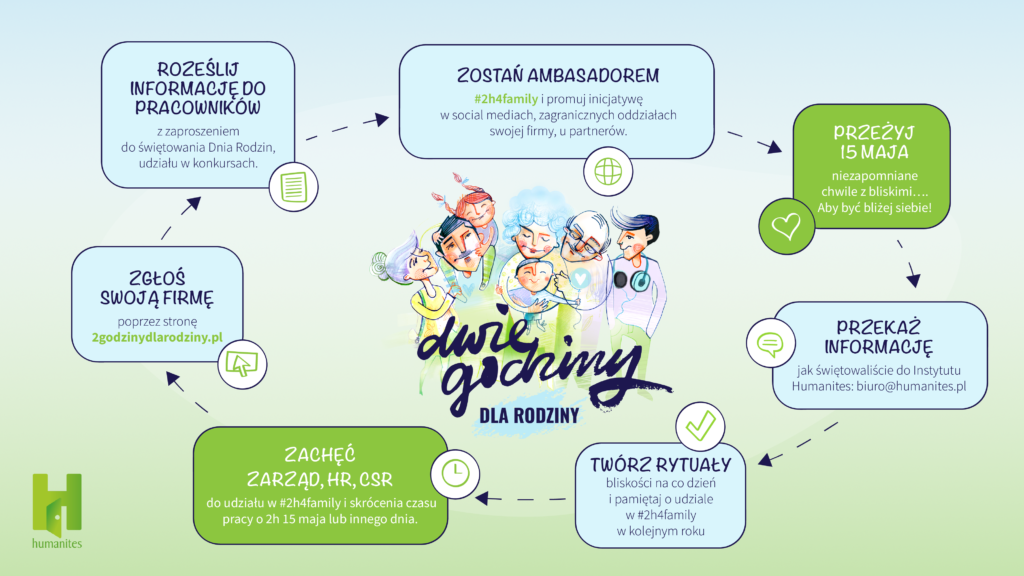 #2h4family to sprawdzony od 11 lat pomysł Humanites, na zbliżanie ludzi w pracy i w rodzinach, budujący wysoką kulturę pracy i zaangażowania. To propagowanie kultury dobrostanu, w której biznes realizuje swoje cele, a ludzie odnajdują sens!
15 maja – Międzynarodowy Dzień Rodzin – to doskonała okazja, aby na chwilę zatrzymać się i zastanowić, kiedy po raz ostatni dowiedzieliście się czegoś nowego o swoich bliskich. Taka idea przyświeca globalnemu ruchowi społecznemu Dwie Godziny dla Rodziny. Głęboko wierzymy w to, że ciekawość, uważność i dobre rozmowy są tym, co tworzy prawdziwe, autentyczne więzi. Zachęcamy więc Was, abyście wsparli w tym Waszych pracowników i podarowali im symboliczne dwie godziny, które oni przeznaczą na magiczny czas z najbliższymi.
Oto jak się włączyć w naszą akcję:
Zarejestrujcie firmę, do 15 maja: Formularz rejestracji
Skrócenie dnia pracy o symboliczne "Dwie Godziny". Zastanówcie się nad podarowaniem tych dwóch godzin 15 maja lub w innym korespondującym z tą datą terminie. To nie jest obowiązkowe, choć 90% pracodawców skraca ten dzień. Wiele firm przekłada celebrowanie przysłowiowych 2 godzin na inne "rodzinne" dni, są to to na przykład: 1 września albo 1 czerwca. Często też inny "elastyczny" termin wynika ze specyfiki działania organizacji.
Namówcie Wasz Zespół do spędzenia tego czasu z bliskimi i to najlepiej międzypokoleniowo! Głównym celem #2h4family jest zainspirowanie Państwa i Państwa pracowników, aby ten dzień zadedykować dobrej rozmowie, wspomnieniom, poznawaniu się czy wspólnym poszukiwaniu tożsamości swojej Rodziny. Ten czas służy wzmacnianiu międzypokoleniowych więzi w rodzinach, w środowisku pracy, w naszym najbliższym społecznym otoczeniu.
Skorzystajcie z gotowych inspiracji, pomysłów i materiałów w zakładkach: Do pobrania, Jak celebrować.
Prześlijcie nam informację o sposobie realizacji kampanii w Waszej firmie: zdjęcia, przykłady pomysłów i aktywności, którymi Państwo wzbogaciliście świętowanie.
W ten sposób Wy, jako Pracodawca, Dział HR wspieracie pracowników w łączeniu ról zawodowych i prywatnych: budując kulturę, w której zatrudniamy człowieka, widząc go niego holistycznie, a nie tylko jako pracownika.
Dodatkowe elementy akcji #2h4Family to:
Jesteśmy dumni, że na przestrzeni ostatnich lat nasze działania wsparło wiele znakomitych osobowości. W naszą akcję zaangażowali się między innymi: Andrzej Seweryn, Roma Gąsiorowska, i Kamil Stoch, Stanisław Sojka, Profesor Jerzy Bralczyk czy niezwykła DJ Wika. Ze wzruszeniem wspominamy także wsparcie, którego nam udzielił kilka lat temu Pan Zbigniew Wodecki.
Akcja Dwie Godziny dla Rodziny jest bardzo ceniona przez pracowników! pojawia się w top 10 benefitów wskazywanych w ogólnopolskich badaniach satysfakcji pracowników. Kampania nie tylko wzmacnia rodziny i zespoły w firmach, ma także pozytywny wpływ na zdrowie psychiczne i emocjonalne ludzi, a w efekcie działa na całe społeczeństwo.
W ostatnich latach #2h4family zmienia się w Globalny Ruch Społeczny na Rzecz Bliskości! Uczestniczy w niej już ponad milion pracowników, 1100 firm z 18 krajów.